This is Fontaine Forge
Historical blacksmithing & custom bladesmithing.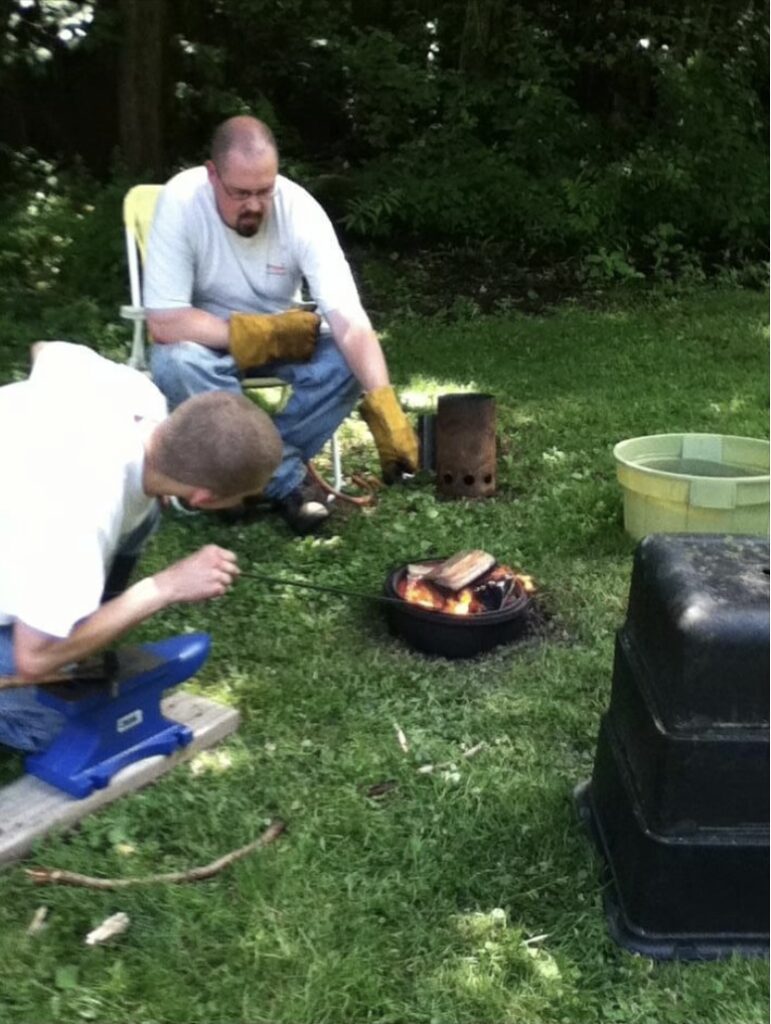 Early on
The first time Aric Fontaine visited the Old Sturbridge Village 1800's museum in Sturbridge, Massachusetts, he went to the blacksmith shop and never came out. Aric spent hours standing there watching and asking questions. Occasionally one of the smiths would let him help out with something. Finally, one of the smiths mentioned he should join the junior intern program. He got into the program and became an apprentice blacksmith learning the techniques of an 1800's shop.
Aric's passion for blacksmithing grew, and he knew he wanted his own shop. Together with his father, Kevin, they built a brake drum forge with a old fan blower and a cheap anvil and got started in the backyard. Later, he took over the shed and started slowly building a real shop. Someone gifted him his first real anvil, and he set out making traditional blacksmith items.
Growing up around martial arts one of which was Kali (Philipino stick and knife art) and learning primitive skills and bushcraft, Aric realized his true passion was knife making. This proved to be hard to do being self taught. Thankfully a friend introduced him to Brian Evelich who was a Forged in Fire finalist (shoulda been champ, he was robbed!). Brian began mentoring Aric in blade smithing and the passion grew.
Current
He now makes custom knives of all kinds along with any blade items anyone would want from kitchen knives to swords. Although his passion for knife making has grown, he never forgets his roots and still continues to work on and make historical blacksmith items.
Kevin Fontaine (often referred to as the "other Fontaine of Fontaine Forge") found his passion for knives early on. He was given his first knife from his grandfather which began many years of knife collecting.
Kevin's interest in knives grew when he discovered the martial art of Kali, a stick and knife-based martial art of the Philippines.
Along with this, Kevin began training and learning the art of bushcraft. After spending money on "factory knives" and flint and steel sets, he realized he could make a better quality product exactly how he wanted. From there his desire to make knives and steels grew. Kevin's interests in camping, hunting and fishing have helped him learn what works in a blade and what often falls short.
Although he handles much of the research, development and design, he is also a blacksmith/blade smith and enjoys the time he gets to spend out in the forge with Aric, who continues to "hone" Kevin's skills.
If there is a knife you have in mind, Kevin can definitely help you design it, and Aric will bring it to life in the Forge.